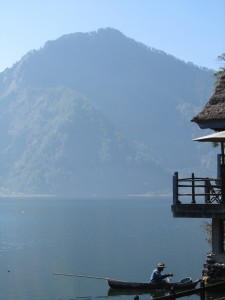 BALI     FIJI    BURMA   MOROCCO   LAOS   VIETNAM
When you travel as often as I do, coming home is a simple pleasure, and for us writers, just as important as the trip away. This time we are coming home from our sixteen day Backstage Bali adventure. Twelve writers started out at Lakeview Hotel, Kintamani, for our four day intensive, nine carried on to the Ubud Writers and Readers Festival, while the four who stayed on for an extra week at Gaia-Oasis mountain retreat were joined by an extra three local writers. Our impressive line up of writers and poets included Jennifer Mackenzie (her poem-novel Borobodur, is published by Transit Lounge and Lontar), Michelle Leber, whose poem-mythography, The Yellow Emperor, will be published in 2014 by Five Islands Press, Ann Beaumont, author of five books on Australian history and heritage, Di Bates, prolific award winning childrens author (The Girl In The Basement,  Crossing The Line), Peter Bishop, award winning short story writer and childrens author Jen Chambers. We also had writers from Singapore, Cambodia (via Alaska), Kuala Lumpur and Surabaya. One of the important aspects of a trip like this, along with the support, camaraderie and inspiration fellow writers always give, is the encouragement, no matter what level you are at, simply to keep going. On Writers Journey retreats there is no division between beginners, intermediate or advanced; we all dive in the deep end together, and I love witnessing the generosity of the experienced writer towards the novice and in turn how valuable it is to be reminded of the fresh approach of 'beginners mind'.
But for all of us, no matter how life changing, ground breaking and productive our time away has been, it's the home coming that is the real test. Can you stick to the goals you set for yourself in your writer's paradise? Can you keep your resolve when you arrive home to all the distractions of modern life?
Of course you can, if you simply remember everyday, to come back to your writing, as if you are coming home to the words on the page; the comfort of forming lines, letters, phrases, sentences, paragraphs, chapters, allowing them to give shape to that important story you must tell.  For when writing  feels like coming home, then you know you have really arrived.
COMING UP!
Jan 9-22, 2014: Moroccan Caravan. Fez, Tissardmine, Erg Chebbi, Marrakech – a 12 day desert journey.

Feb 11-23, 2014, Temple Writing In Burma – inc. Irrawaddy Literary Festival.

March 8-15, 2014. Breakthrough Writing in Fiji – Eat, Snorkle, Write, in Fiji's hidden paradise.
Aug 15-31, 2014, Indochine Journey, Vietnam – following the footsteps of Marguerite Duras.
What our Bali writers said about this years Backstage Bali.
"Jan Cornall has a talent inspiring writers – a gift – the creative visualizations she summons are stunning, provocative and fruitful – she is lucky to have found the Writer's Journey as her sustenance in life, it suits every part of her. Like everyone, I too would like to extend my gratitude to Jan and our host Kadek – we were very fortunate to have you both as guides, to experience Bali through your eyes certainly imparted a richer experience. So many highpoints, but Kintamani was a creative force in itself, that I recognize today while shuffling through my notebooks".Michelle Leber, poet, Melbourne.
Thanks to everyone for being enthusiastic and friendly fellow travellers and writers.Thanks to Trishna for the talk and handout and the design of Lakeview, including my room and its spectacular views from the bathroom.Thanks to Kadek for looking after us at Lakeview, for the expeditions, information and talks, for your abundant enthusiasm, and especially for loaning us the life-saving cushions at the Jalanan film showing. Thanks to Ketut and all his extended family for looking after us at Ubud, especially to his brother-in-law "Ketut the fourth" who drove me around sightseeing on Wednesday morning to the coffee plantations and such after the rest of the group had left and later to the airport.But most of all a huge thankyou to Jan for organising this retreat, for the workshops, for the entertaining poetry recitals,  for looking after us all, and for letting us share this wonderful experience.As for me I'm back at work now. But on the plus side I've now written the first chapter of my book. Well, the first draft of the first chapter at least. On to chapter two… Julie Freeman, novelist, Perth.
Thanks so much Jan for a wonderful 10 days – the inspiration, meditations, and encouragement throughout the retreat and for keeping us going throughout the Festival. And thank you Kadek for your lovely accommodation, spectacular views, and the informative excursions. Leone Carroll, memoir writer.
Jan, Kadek,thanks for a great retreat – wonderful workshop, superb organization, gd food :)Hope to join your other retreats and to come to Kintamani, this great place again! To all my retreat mates, I have learnt much from all of your beautiful writing! Thanks for enriching my life :). Tara L, novelist, Singapore.
Ive started on my first follow-up task from the retreat.  You can see my
new blog here
.I do look forward to my next trip with Jan (maybe to Gaia next year!)  and the continued success of all of our work.   Kudos to Kadek for spectacular logistics.
Ellen Maling, memoirist, Phnom Penh