March 4 – 17, 2018.  For writers and artists. Our creative adventure in the Moroccan desert will take you deep into the heart of Moroccan culture and creativity. Start a new project, revitalise an old one or simply capture the journey in your chosen art form.

VIEW PHOTO GALLERY           VIEW CLIP HERE           REGISTER YOUR INTEREST HERE

_______________________________________________________________________________________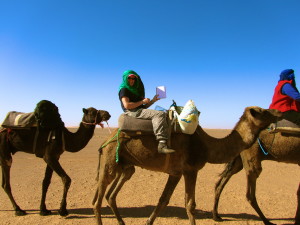 Our Moroccan Journey

We begin our creative adventure with two days sightseeing in Marrakech, before crossing the High Atlas Mountains and heading for the desert. Our destination is an artist's retreat in the Saharan village of Tissardine owned and run by Australian artist Karen Hadfield.
Listen to an interview on ABC Radio with Karen here.
'Situated in an oasis, this tiny traditional Berber village comprising of 15 houses, is perched on the edge of one of the Sahara's most extraordinary natural wonders, Erg Chebbi, a large dune stretching 22 kms long and 5 kms wide and peaking up to 150 metres high.
Formed by wind blown sand, Erg Chebbi is celebrated for its unique golden-orange sand formations that start at the most northern tip of the Sahara and undulate across Morocco to Tomboctou.
Located 30km from the more well-trodden towns of Erfoud and Rissani, Tissardmine is a place of tranquility, where the loudest sound you will hear is the birdsong'.
After two days at our Tissardmine base we ride out on camels into the vast Erg Chebbi dune for our 6 day camel trek, sleeping in Berber tents, feasting on tagine delights, drumming with our Berber cameleers by night and working on our creative projects.
We come back in to Tissardmine before driving across the Low Atlas Mountains for two days and nights in Fez, exploring its fascinating markets and medinas with an optional add on — a five day residency in the nearby town of Sefrou, staying in an artist villa and exploring the local culture.
Accommodation
In Marrakech and Fez we will stay in traditional Riads.On our Tissardmine retreat and trek we sleep in traditional Berber tents. In Sefrou we are accomodated in an artist villa.
The Workshops
Daily workshops begin in Marrakech and follow the cosmology of the eight pointed star, which is the base of Moroccan decorative arts, architecture and Islamic symbology. Each day as we travel the desert sands we will explore the mystical significance of the eight cardinal directions and the areas of writing or creative craft they relate to. Meditative techniques combined with image and sense explorations will take your creative explorations to new and unexpected places as the journey reveals the geographic treasures of the shifting Saharan landscape. With the Moroccan star as our map and guiding light, at the end our journey we arrive at the centre of the octagon, which in Sufi beliefs represents wholeness and perfection.  As we pack our bags for our return we can be sure the profound knowledge and newfound discoveries of our adventure will be useful in our creative projects for years to come.
Price: $3795 AUD twin share,  early bird $3495 pay in full before June 30 2017.
$300AUD single supplement.
Additional: Sefrou residency, March 17 -23: $500AUD (accommodation only). SEFROU ADD ON NOW FULLY BOOKED!
Includes:
Full board at Tissardmine and Camel Trek (breakfast, lunch and dinner plus snacks).
Half board on the road (breakfast and dinner)Marrakech, Fez and accom only in Sefrou.
All accommodation (twin share).Transport.3 hr guided tour Fes and Marrakech.
Bottled Water (3L per day).
Tuition and guidance.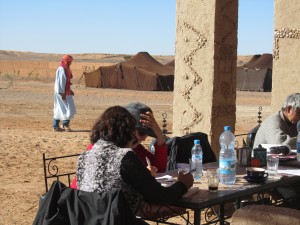 Does not include:
International air fares,  we will meet the Emirates flight from Australia at 12.50 pm on March 4, 2018.Lunches and refreshments on journey to and from Tissardmine (or other incidental food supplies you may want to bring).Meals in Sefrou. (optional residency).Alcohol.Personal shopping.
Weather: March it is mild to cool weather in Morocco so be prepared for temperate days and cold nights from 11C overnight to 23C or warmer in the day.
ITINERARY
Day 1 – Arrive Cassablanca airport, drive to Marrakech (3hrs), welcome dinner at our Marrakech riad.
Day 2 –Morning workshop – introduction to the Moroccan Star and its relevance in our creative journey, explore Marrakech, evening readings and dinner.
Day 3 – Travel across the High Atlas Mountains to Boulmane Dades (4 hours), visit Dades gorge, pre dinner workshop, overnight in local guest house.
Day 4 – Morning workshop, travel to Tissardmine (4 hours), settle in to Tissardmine accom, pre dinner sharing session, dinner, relaxing in the salon.
Day 5 – Morning workshop, afternoon free creative time, pre dinner session, dinner.
Day 6 to 10 – We set out on our 6 day camel trek with our desert guides, riding and walking into the great Erg Chebbi Dune, one of the most peaceful places you will ever experience. Morning workshops and late afternoon sharing sessions with time available for free writing or artmaking. The camels carry our luggage and we walk/ride with small day packs.
Day 11 – Arrive back at Tissardmine, day off for relaxing and free creative time.
Day 12 – Morning workshop, afternoon in Rissani, the nearby town, shopping and sight seeing, evening soiree, sharing of work.
Day 13 – Drive across the Low Atlas Mts to Fez (6hours), arrive Fez medina, check into Fez Riad.
Day 14 – Morning workshop, explore Fez with guide, final sharing session, dinner.
Day 15 – For those leaving today, transfer to Cassablanca airport in time to catch afternoon flights.
— for those staying for Sefrou residency, transfer to Sefrou accom (half hour from Fez). Sefrou orientation, pre dinner goal setting for residency. SEFROU RESIDENCY IS NOW FULLY BOOKED.
Day 16 to 19 – Residency days will begin with a short workshop session, after which you have the whole day to devote to your writing/artmaking. Pre dinner sharing sessions continue, excursions in local area can be arranged. Final sharing session and farewell dinner on the evening of Day 19.
Day 20 – Transfer to Cassablanca airport in time to catch afternoon flights, or continue on your own itinerary.
Note: our itinerary may be subject to change due to local events or conditions. 
Comments from past Moroccan Caravan adventurers.
Biff Ward says:
"I had very few expectations – just very glad that this was being organised for me, trusting Jan to organise something really good.The reality was fabulous! I thought Fez was extraordinary but as we drove from Erfoud to Tissardmine, I was utterly overwhelmed with excitement, with seeing how Wild and Far-out (literally) it was. I kept saying to Jan – I had no idea! You've really done it!I trusted Jan to take me somewhere new and different, so did not research, just went with the flow. Lo & behold, the wonders of Riad Rcif (Fes accom), the hammam (Moroccan baths) experience, then the desert, Berber people with their wisdom & laughter & generosity. Dozens of 'aha' moments every day. Plus a great writing workshop.
So ever since we've arrived, I have simply been taken up by the experience – T, the dunes, the camp, the food, the trip away, the camels! Karen, & the staff. And also our writing – like a double-whammy of in-the-present-moment pleasure/bliss.
Financially – good value re travel & writing.
Creatively – Yes! I really moved along with my next book. (Biff signed with Allen & Unwin not long after our return).
Culturally – fabulous learning and experiencing. Conversation as I walked with Kersch beside the camels was the best!"
Meme Thorne says:

Thewriting exercises pushed me into terrain I was unfamiliar with, therefore taught me valuable lessons in crafting and organising my material. Group mentoring also worked well for me with feedback and support. Absolutely financially worthwhile! This has been a major investment for me in term of my personal life and writing a new performance work. The atmosphere and the people all made huge contributions. Expected exotic people, food, décor, cultural and social activities outside the norm. I was not disappointed.The most luxurious camping trip I've ever been lucky enough to experience. The 2 nights in the dunes of Erg Chebbi are indelibly etched in my mind & my heart Salaam Aleykum!"
 Verity Laughton says:
"The structured activities were (a) wonderful in themselves; (b) excellent in terms of shifting one into a new creative zone. Writing activities were great for me. I loved all of the workshop activities. They all help and Jan is an excellent and innovative tutor. It has been extremely helpful for me in terms of getting the hang of this strange beast I'm working on. What worked best? Hard to say. I loved the diagrams & the meditations/visualisations. I would recommend Café Tissardmine to friends as a holiday destination but especially as a writing retreat. When the emphasis is on work then the occasional discomforts become pluses rather than minuses.A place to dream in, be in, learn about and to evolve your new dreams. Erg Chebbi at sunset is a gift to the mind and spirit."