Easter,  April 10 -17, 2017. A eight day creative intensive for writers and artists at a private beachside hacienda in Sanur, Bali.
Our Bali retreat takes place in beachside Padang Galak, near Sanur. Morning workshops, afternoon free writing/artmaking  and evening readings/showings, will provide the perfect environment in which you can significantly progress your writing or creative project.
 RESERVE YOUR PLACE HERE. ASK FOR MORE INFORMATION HERE. VIEW PHOTO GALLERY .VIEW VID HERE
——————————————————————————————————————————————————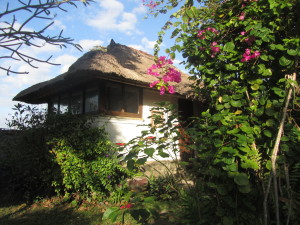 Bring a current writing or creative project or start one afresh. The workshop exercises are designed to progress your writing or art making process at whatever stage. All genres, modalities and all levels of experience are welcome.

On our Backstage Bali retreat you have the chance to re-energise your creativity in the heart of Balinese culture and find out why Bali has been a mecca for creative artists, writers and thinkers for centuries. Based in Bali's south eastern seaside village of Padang Galak, our focus will be on making work, but we will also venture into the local landscape to immerse ourselves in the everyday creative and spiritual practice of the Balinese people during their important Galungan Festival. Taking our inspiration from Balinese cosmology, linking the senses and elements with essential aspects of writing craft and creativity, we will bring this stimulus into our writing projects.
Our Host
Our host Sarita Newson is a well known publisher (Saritaksu Editions) and editor of art books, non fiction, fiction, childrens books and memoir, based near Sanur. (In Balinese Sari means "essence" and Taksu is a word that describes "creative inspiration"). Originally from NZ, Sarita has lived in Bali since 1973 and is fluent in Balinese and Indonesian.  She has lived at Padang Galak for over 30 years raising her three children and now bases her publishing house there. A hostess with the mostest, she opens her secluded seven room hacienda and adjoining villa to us for our creative retreat.
Accommodation
Sarita's hacienda has long been a meeting place for writers, artists, thinkers, friends and family. Nestled beside Padang Galak beach ( just north of Sanur), it has nine rooms with dining and workshop areas and a two swimming pools, spread across a family compound and garden.Our cooks Nyoman and Wayan will keep us nourished with traditional homecooked Balinese meals, some of  in Bali! With 2 minute access to beach swims and walks before and after workshop and writing sessions, it is perfect for a small group intensive.
The Workshops
Our retreat falls during the annual festival of Galungan so the island will be alive with colour, music and ceremony. Each morning our workshops will take their inspiration from various aspects of Balinese cosmology and geomancy. Your tutor Jan Cornall uses a unique meditative method to connect the spiritual and creative energy of Balinese culture to the elements of writing and creativity.Writers are encouraged to use the stimulus to advance a writing project and artists are given the opportunity to bring these ideas into their work. In the early evenings, readings and showings give participants another chance to share their work in a safe, supportive and stimulating atmosphere.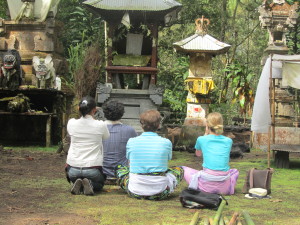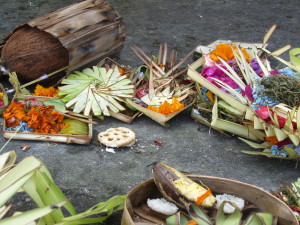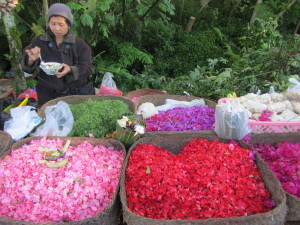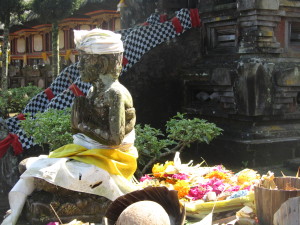 TRIP DETAILS

Prices
$1450 AUD, single Budget Room.
$1610 AUD. single Superior Room
$1710AUD pp share double Deluxe Room
$1810AUD, single Deluxe Room
(See room pics below)
Includes: airport transfers, accomodation, breakfasts, lunches, some dinners, tuition.
Excludes: international airfare, travel insurance, alcohol, personal items, laundry, excursions, extra outings.
LIMITED PLACES!! Rooms will be assigned on a first in, first serve basis.
A non-refundable deposit of $600 will reserve your place.Pay by paypal here. 
SOME NON RESIDENTIAL PLACES AVAILABLE FOR LOCAL PARTICIPANTS.  Contact Jan for local prices.
 Contact Jan for final payment details and booking info.
Flights from Australia – If you can book a Virgin flight to arrive at 4:10 pm on April 10, we will transfer as a group to Padang Galak. If you can only arrive at another time I will give directions re your transfer by taxi.
Daily Schedule
Day One
Arrive at Bali airport on April 10, transfer by taxi to Padang Galak, settle in, explore the territory, walk, swim, relax. Enjoy a home cooked welcome dinner.
Each day the daily routine will be
7 am:  walk, swim, beach meditation,
8am:  breakfast.
9:30 am- 12 noon: morning workshop
12:30: lunch
1:30 pm -5pm free writing/art making. On some afternoons excursions may be offered to local sites of interest and we may include a day boat trip to the nearby island of Nusa Penida.
5:30 pm pre dinner drinks, readings, showings. These will take place sometimes at home, sometimes at cocktail hour on Sanur's beach strip.
7pm : Dinner out in Sanur at fabulous local restaurants or dinner at home.
Day Eight
In the early evening, transfer to airport for flights home, or continue on own itinerary.
ROOMS
Budget Room 1 (open air, fan, sea views, share bathroom) BOOKED!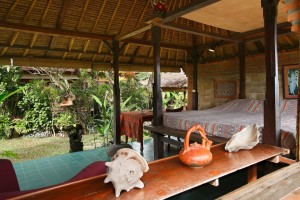 Budget Room 2 ( attic room, fan, share bathroom)Last room available!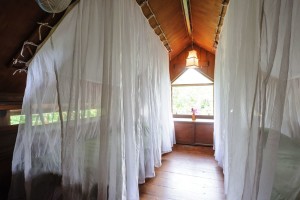 Superior room 1 (aircon, garden setting, share bathroom) BOOKED!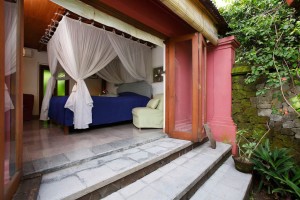 Superior Room 2 (fan, rice field/sea views) BOOKED!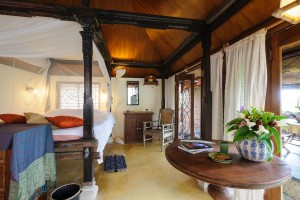 Superior Room 3 (fan, garden setting). BOOKED!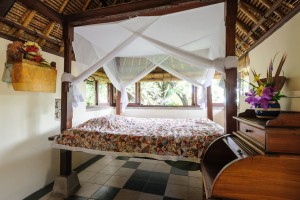 Superior Room 4 (aircon, garden setting, share bathroom). BOOKED!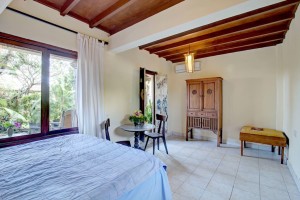 Deluxe  Room 1 (Aircon, share bathroom, sea views).BOOKED!
Deluxe Balinda Room 2 (aircon, upstairs, sea views).BOOKED!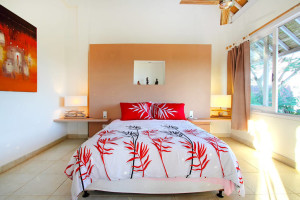 Deluxe Room Balinda 3 (aircon, downstairs, share bathroom).AVAIL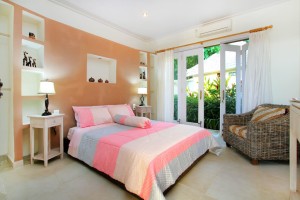 Deluxe Balinda Room 4 (fan, downstairs single, share bathroom). AVAIL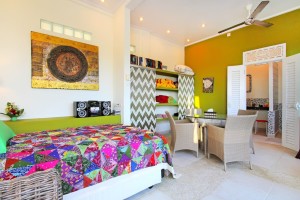 Living, dining, workshop, pool, garden areas at Padang Galak Hacienda.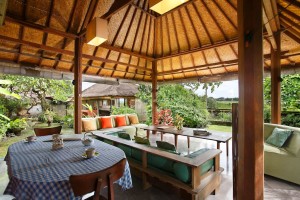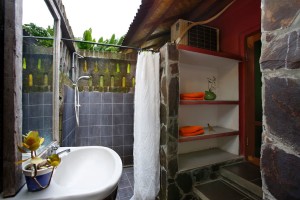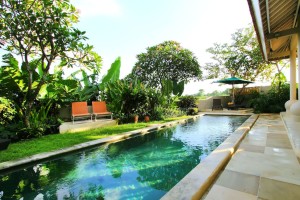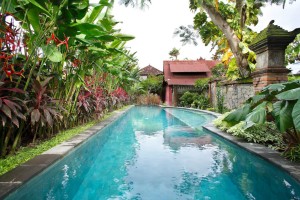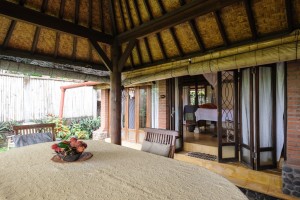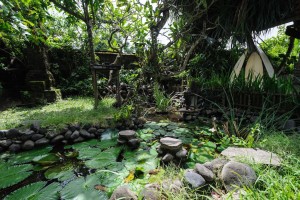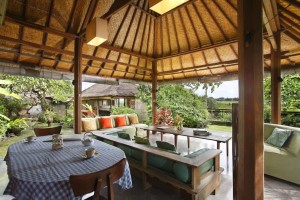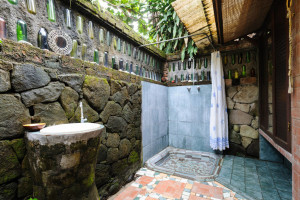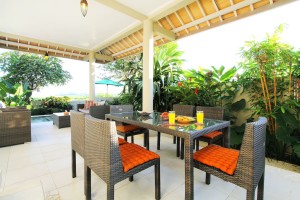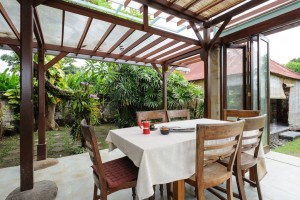 LIMITED PLACES!! Rooms will be assigned on a first in, first serve basis.
A non-refundable deposit of $600 will reserve your place.Pay by paypal here.
 Contact Jan for payment details and info.
Please read Writers Journey Terms and Conditions.