Sadly have had to cancel our Oct 2017 retreat due to a number of circumstances.
Mountains and ricefields retreat —A seven day creative intensive for writers and artists. Arrive at beachside Padang Galak, near Sanur.  Next day travel to Prana Dewi cottages, nestled among the ricefields beneath Mt Batukaru for four days rice paddy writing. Transfer for our last two nights to the spectacular views of Mt Batur at Kintamani.  Morning workshops, afternoon free writing/artmaking  and evening readings/showings, provide the perfect environment in which you can significantly progress your writing or creative project.  Complete your literary indulgence and continue on your own itinerary to the excellent Asia Pacific Writers and Translators Conference (Oct 22-24) in nearby Singaraja, then sashay down to the Ubud Writers and Readers Festival  (Oct 25-29).
 RESERVE YOUR PLACE HERE. ASK FOR MORE INFORMATION HERE. VIEW PHOTO GALLERY .VIEW VID HERE
———————————————————————————————————————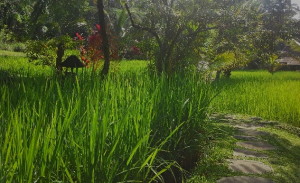 Bring a current writing or creative project or start one afresh. The workshop exercises are designed to progress your writing or art making process at whatever stage. All genres, modalities and all levels of experience are welcome.

On our Backstage Bali retreat you have the chance to re-energise your creativity in the heart of Balinese culture and find out why Bali has been a mecca for creative artists, writers and thinkers for centuries. , Our focus will be on making work, but you will also have the opportunity to venture into the local landscape to immerse ourselves in the everyday creative and spiritual practice of the Balinese people. Taking our inspiration from Balinese cosmology, linking the senses and elements with essential aspects of writing craft and creativity, we will bring this stimulus into our writing and art making projects.
Our Bali Guide

Our host and guide Kadek Kris is a writer, translator and curator was born into a large extended Balinese family from the Batur region.  His mother Sarita Newson, who will also join our retreat, is a publisher (Saritaksu Editions) and editor of art books, non fiction, fiction, childrens books and memoir, based near Sanur. Originally from NZ, Sarita has lived in Bali since 1973 and is fluent in Balinese and Indonesian.  She has lived at Padang Galak for over 30 years raising her three children and now bases her publishing house there.
Accommodation
Arrive on Oct 14, to Sarita's Ocean View B&B  at Padang Galak  for our first night. It is relatively close to the airport,  and takes under 40 mins to one hour, traffic permitting.
For the next 4 nights (Oct 15 -19) we are off the grid and surrounded by rice fields at Prana Dewi Cottages near Mt Batu Karu in the Tabanan district.  Afternoon walks to local hot springs and temples are offered for those interested.
For our final two nights we transfer to Lakeview Hotel, perched on the volcanic caldera at Kintamani with stunning views over Lake Batur and Mt Batur. Afternoon excursions to nearby sights can also be arranged.
The Workshops
Each morning our workshops will take their inspiration from various aspects of Balinese cosmology and geomancy. Your tutor Jan Cornall uses a unique meditative method to connect the spiritual and creative energy of Balinese culture to the elements of writing and creativity.Writers are encouraged to use the stimulus to advance a writing project and artists are given the opportunity to bring these ideas into their work. In the early evenings, readings and showings give participants another chance to share their work in a safe, supportive and stimulating atmosphere.
DETAILS

Price: Regular price $1995 AUD,  Early bird $1795AUD (paid in full by July 30), APWT Members discount $1495AUD).
Local discount available for Indonesian nationals and resident expats. Please enquire here.
Includes: airport transfers and transport, 7 nights accomodation, breakfasts, morning tea,  lunches dinners, tuition.
Excludes: international airfare, travel insurance, alcohol, personal items, laundry, excursions, extra outings.
LIMITED PLACES!!
A non-refundable deposit of $600 will reserve your place.Pay by paypal here. 
 Contact Jan for final payment details and booking info.
Find out more about the Asia Pacific Writers and Translators Conference Oct 22-24 here.
Check out Ubud Writers and Readers ticket prices here.
Flights from Australia – Book a flight to arrive in the afternoon if possible. Your driver will meet you and bring you to Padang Galak.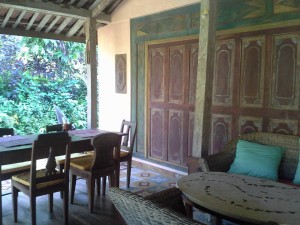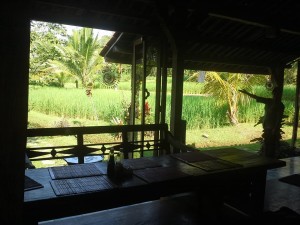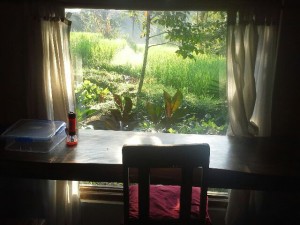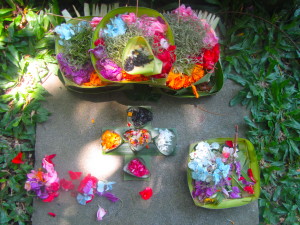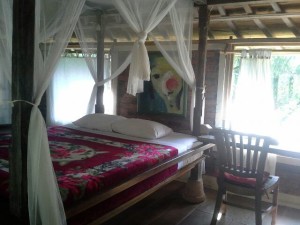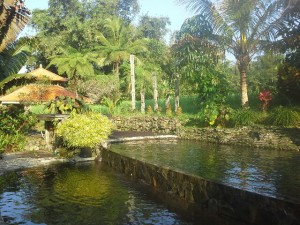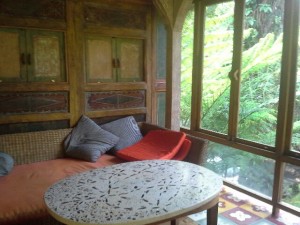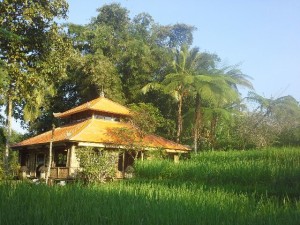 Schedule
Day One – Oct 14

Arrive at Bali airport on Oct 14, transfer by car to Padang Galak, settle in, explore the territory, walk, swim, relax. Enjoy a welcome dinner.
Day Two – Oct 15

8 am: Breakfast
9 am: Introductory workshop
10:30 am: Transfer to Prana Dewi near Mt Batukaru
3.30 pm: Afternoon workshop
7pm: Dinner, relaxation
Day Three to Five – Oct 16,17,18

8am:  breakfast.
9:30 am- 12 noon: morning workshop
12:30: lunch
1:30 pm – 5pm: free writing/art making.  Excursions to local sites of interest optional.
5:30 pm: pre dinner drinks, readings, showings.
7pm : dinner, relaxation.
Day Six to Seven – Oct 19, 20,

8am: breakfast
9.00 am: morning workshop
11am:  check out, transfer to Lakeview Eco Hotel
12 pm: lunch
1pm -5pm: free writing time
5.30 pm readings
7pm:  dinner, relaxation, last night soiree.
Day Eight – Oct 21

8am: breakfast
9.30 am – 12pm : morning workshop
12.30pm: lunch
2 pm: Transfer to next location or to airport for evening flights
The views of Mt Batur and Lake Batur from our hotel at Kintimani.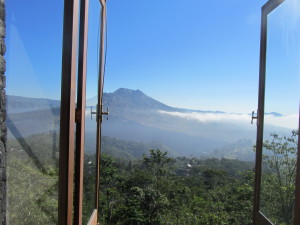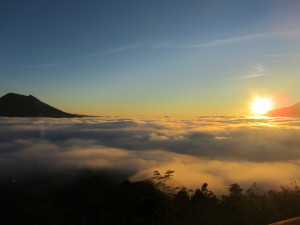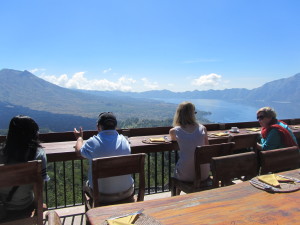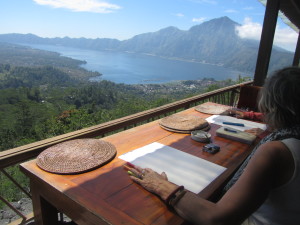 Living, dining, workshop, pool, garden areas at Sarita's Oceanview B&B, Padang Galak .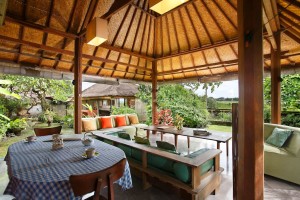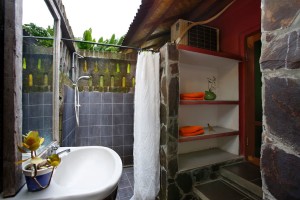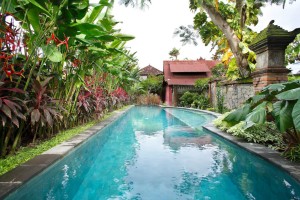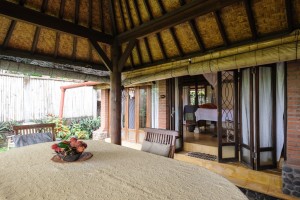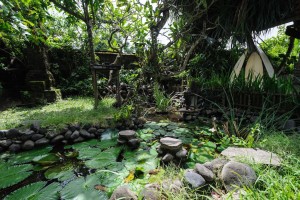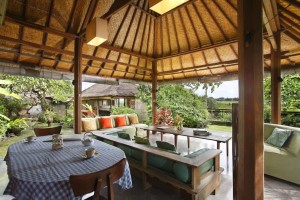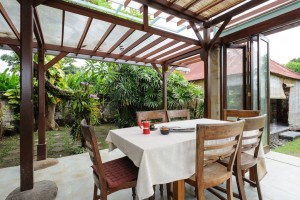 Feedback from Backstage Bali participants, April 2017
Definitely not a week I will forget. I found so much more than I expected and I feel that my eyes have been opened. I felt so much more at home here than in writers groups I tried in London. This feels like a gift. It has helped me get back to writing. Rana Haddad , novelist, UK.
Overall a very rich fulfilling experience secluded in the quiet zone, a home away from home — peace, serenity, the soothing comfort of nature's benevolent spirit, group bonding, camaraderie and great lessons on writing. Jan Cornall, so beautifully taking me into the meditations, guiding me to be more aware of the senses, —she is a great instructor on writing creative pieces. Rebecca Haque, Professor of Literature, Dhaka University, Bangladesh.
I came to restore my balance, to strengthen my body and find what other stories want to be told. I found peace, a wide horizon, kindness, a seamless connection between the seen and the unseen and the thread of a new story. The ability to go deeper and deeper each day gave the workshops a momentum I will treasure as a point of reference.Kerry Dwyer, memoir writer.
Thank you Jan, Sarita and Kadek. I'm deeply grateful for your generosity and hospitality and for creating the conditions for such a wonderfully generative week of writing. I really loved this retreat where we sat in the midst of the garden looking over the corn fields; the daily meditations, the practice of keeping the pen moving and then sharing in groups (small and big), having the afternoons and early mornings to continue writing and the communal meals. I don't yet have the words to describe what all this means; fair to say I feel rhapsodic. Shane Rowlands, Creative Consultant, Brisbane.
I achieved what I wanted — a week away from the stresses of home and a return to writing after a long absence. It was a pleasant and welcoming place with the most delightful food, companionship and helpful feedback on my writing. Ric Macready, retired judge, non fiction writer.
I came to be open, to see what would come, to have a spacious time in this beautiful place. I found I can write! And that I felt ok reading in front of these supportive and encouraging folk. I now have a fledgling little project to write my Nan's life. (How a sophisticated French woman ended up in Goondawindi). I have a map and much research and writing to come. I enjoyed the whole experience. Our hosts Kadek and Sarita were knowledgable thoughtful and tolerant. Thanks for putting up with us. Thanks for the encouragement and feedback! Susi Blackwell, designer, Brisbane.
LIMITED PLACES!!
A non-refundable deposit of $600 will reserve your place.Pay by paypal here.
 Contact Jan for payment details and info.
Please read Writers Journey Terms and Conditions.