No trips heading out at present. Group bookings for your writer's group can be arranged.

Contact Jan to register your interest. View Gallery. Ask for more info here.

__________________________________________________________________________________

LUANG PRABANG –  A Writer's Heaven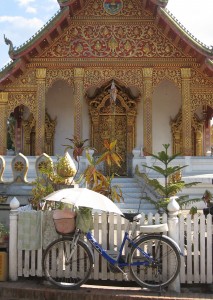 The charming heritage listed town of Luang Prabang, where the Nam Khan River meets the mighty Mekong in Central Laos, is the location for this unique writing sojourn. Morning writing workshops leave time for exploring buddhist temples, museums, galleries and local markets. On both sides of town, open air cafes provide the perfect place for writers to contemplate the powerful presence of the river and catch a spectacular sunset before browsing the night market with its array of antiques, Hmong embroidery and delicious Laotian food. There's also fine dining in restaurants across town, excursions up river to villages that rarely see tourists, visits to local weavers, artisans and a chance to help out with a local literacy project.
DAILY WORKSHOPS
Each day Jan will guide you in meditative writing and creativity techniques you can use in your daily explorations. She will also introduce you to the art of travel haibun, a form of descriptive writing used by the Japanese haiku poet Basho on his pilgrimages in Japan. Exercises evoking the senses and elements will complement visits to local artists  who will share their knowledge of paper making, paper cuts, bamboo weaving and Hmong batik methods.  Using local handmade papers, traditional fabrics and oriental stitching, by the end of the week you will not only have written a collection of writings but made a book to put them in.
COST: $2295AUD (discount offer for a group of 8 or more $1995AUDpp.  Includes accommodation plus breakfast at The Apsara boutique hotel and the week's tuition
All accom is in standard upstairs, downstairs or superior downstairs rooms allotted on a first serve basis. If you prefer a superior upstairs room add on $315 to your overall price.
Some places are available at reduced price for SE Asia expats and nationals and internationals applying for concession (students, unemployed).
This price does not include airfare, lunches, dinners, alcohol, excursions,  travel insurance or any other expenses incurred during the course.
Payment: a non-refundable deposit of $600 will secure your place. Full payment due by Oct 1 ( cancellation conditions apply – please read terms and conditions at the bottom of this page).
Booking: contact Jan for payment method and information sheet.
FLIGHTS – flights in daily from Bangkok, Siem Reap, Chiang Mai with Thai Air, Bangkok Air and from Hanoi on Vietnam Air. Visa on arrival. $30US
WEATHER – November, December falls in the dry season with cooler temps between 25 – 30 C. It can get cold at night so bring some warm clothes as well.
ACCOMMODATION – We have a group booking at The Apsara on a quiet street near the centre of the old town.The Apsara looks over the Nam Khan River and has 'stately colonial rooms boasting a contemporary style' and is just 3 minutes walk from the Mekong.
Daily workshops take place riverside at The Apsara with evening readings at designated venues around town including the Sunset Cafe and Rive Droite.
(May change to according to local conditions, opportunities and needs of the group).
9am -11am  – morning workshops at The Aspara
11am – 12noon – zine/artist book making workshop
12 – 1pm – lunch
2 – 5pm  – free writing time/ excursions
5 – 6.30pm – readings and feedback sessions.
7.30pm – dinners in town at L'Elephant, Utopia, Hive Bar, 3 Nagas, Night Market.
EXCURSIONS (offered according to interest).
Ock Pop Tok lunch, bamboo weaving workshop and silk worm demonstration    www.ockpoptok.com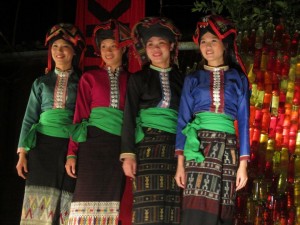 Paper cut workshop at Yensabai Bookshop.
Temple tour/hilltop walk
Waterfall trek
Monks alm giving
Morning market walk
Night market shopping
Ethnic fashion parade
Visit Big Brother Mouse literacy program and Lenou's Library
Visit to Papermaking village
Click here to view some videos of the area.
VIEW MORE PICS from our 2011 retreats and Jan's 2009 visit.