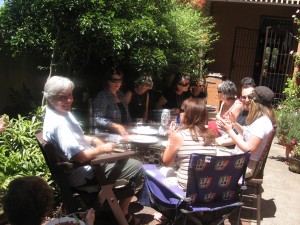 Draft Swap happens once a year, a month or two after  Summer Writers Lab.
The next Draft Swap will be Feb 25 2018,  at Glenrock House in Petersham, Sydney. Contact Jan for details.
Writers bring along a draft manuscript (novel, memoir, non fiction, script, collection of poems or stories) to swap with fellow swapees.
They also bring a half page synopsis and a seven minute (three page) excerpt to read before we crack open the champagne and formally hand over our draft to our chosen mentor. Pairs or triads make appointments to meet in a few weeks for mutual mentoring sessions.
Swapees take them home and are encouraged to write comments in the margins and some even write readers reports/reviews(optional). Guidelines are given for critiquing and swapees meet up for separate sessions on their manuscripts.
Cost: $150, concession available.
Venue: Glenrock House, Petersham, Sydney.
Bring:  your draft ( double spaced, generous margin, pages numbered, attach with bulldog clip in folder) and something delicious to share for lunch.
If you have a draft to swap and can't make it to our meeting you I am happy to match make you with another swapee.You can have your meeting by phone or skype. Attend our monthly Draft Busters workshop and get cracking on your draft now!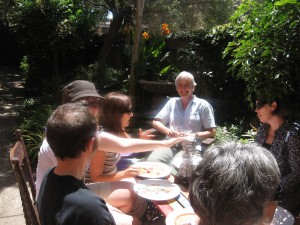 The photos here show Margo Lanagan who brought along her H. P. Lovecraft bust ( one of her four World Fantasy Awards ) to our annual draft swap . Once all the reading was done we toasted the future success of our writing over H.P.'s shiny silver head.
If you can't make it to Draft Swap but want some guidance about who to show your work to below are some tips for how to begin to show your work.
Do's and Don'ts for Getting Feedback on Your Work.
DO print your MS with double spacing and numbered pages on plain paper with generous margins for comment writing.
DO NOT use fancy frilly fonts, coloured paper or house chapters in plastic sleeves.
DO bind it with a bulldog clip and present in a manila or plastic envelope so its easy to get out and read page by page.
DO include a well written  synopsis and contents page.
DO include a cover letter detailing what kind of feedback you would like. eg. Things you like about the book, any confusing sections, things you think could be improved. You may ask them to do this in regards to: setting, language, voice, character, plot, action, structure, impact etc.
DO choose who you give your MS to carefully. DO NOT go around handing it out willy-nilly. One or two people, three at the most.
DO NOT give it to family members except in rare cases. They tend to be over generous or go in too hard with negative criticism (they think they are helping). Either way they will push all your buttons and it could end in tears.
DO choose people who love reading, whose opinion you respect, who you know you can trust with your vulnerability.
DO enter into a contract with them. Ask them seriously if they have time to read it. Don't accept vague promises. Ask them to commit to a time scale for reading and set a conducive time and place to meet in no more than one month's time. Make sure you book two hours minimum. If they  don't keep their promise ask them to send the MS back. You don't want it left lying around any-old-where.
DO NOT take it personally if they don't like your work. You can agree or disagree, get a second opinion, choose to listen or not.
DO take some time after the feedback session to let it settle before you dive back into your rewrites.
DO NOT be discouraged that you have more work to do. Give your self a pat on the back for having come this far. Have a celebratory drink and toast the future success of your work with your mentor or swapee.
 More free tips and writing prompts here.