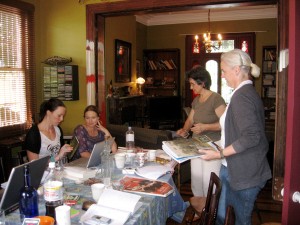 DRAFTBUSTERS is a monthly workshop for published or unpublished memoir writers, novelists, script writers, non fiction writers, scribblers and doodlers in all genres, who want to seriously progress with their long term writing project.
Whether you are at the beginning or end of a first, second or umpteenth draft of an idea, a story, a book or a script, DRAFTBUSTERS will keep you and your writing, motivated and on track. It will provide valuable feedback and support for your work and your writing process, while instructing you in the essential elements of writing craft.
Each month we address different areas of writing craft with exercises designed to progress the writing of your book. Each author  also has a designated feedback session where they can read, discuss,  or present any part of their writing for constructive criticism.
Cost:  $150 waged, $100 unwaged (other discount offers available, contact Jan for more info).
Venue: Glenrock House, Petersham, Sydney.
Bring:  your writing and something delicious to share for lunch in the fragrant Glenrock garden.
Next DB dates for 2017/18 Nov 12, Dec 10, Jan 21, inc Draft Swap Feb 25. Contact Jan for details.
Draft Buster Regulars & Alumni  include: Jennifer Moore (memoir and short story writer), Margo Lanagan ( multi award winning internationally published, novelist, short story writer and four time winner of the World Fantasy Prize), Sunny Grace (novelist, script writer, film producer), Peter Bishop (multi award winning short story writer), Sonia Bible (script writer, director, ABC's Recipe For Murder),Lyn Macready (novelist), Peter Bishop ( award winning short stories, Black Soil), Jennifer Smart ( novelist, blogger), Margaret Gerada (winner Paperback In Your Hand memoir comp 2011),  Kat Clay  (fantasy novelist), Kinga Bisits (playwright), Jill Waters (puppeteer and playwright), Marianne Hamilton (screen writer),Therese Spruhan (journalist, nonfiction writer, blogger),Therese Waters (novelist), Richard Macready (non fiction writer), Fabia Claridge (novelist),Lyn McGettigan (memoirist), Dorathea Gallagher (short story writer), Peter Catts (memoirist) and many more talented folks.