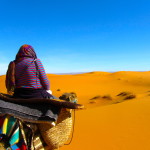 Travelling is a great stimulus for writing. Taking a notebook instead of a camera allows you to capture imagery as you go, adding commentary and reflection that no photograph can ever give.
In this course Jan introduces you to a number of different travel writing techniques including:travel memoir,  creative non fiction, travel articles and the ancient art of travel Haibun used by the Japanese Haiku poet, Basho.
Drawing on the inspiration of haiku and haibun writing, Jan will show you the importance of capturing descriptive detail in a simple and evocative way. The importance of story is emphasised too; whether you are working on a travel memoir or travel article, Jan will show you how to use the literary techniques of creative non fiction to bring your writing to life. Setting, narrator voice, the characters you meet along the way, the quest of the narrator character, the drama and obstacles that happen on the journey are all neccessary elements of telling a good travel story.
At the end of the workshop you will have written a travel haibun, a travel memoir story and a short travel article.
Your tutor Jan Cornall travels often. Her fictional memoir Take Me To Paradise (2006) is set in Ubud, Bali and a collection of songs, poems and stories is published in Archipelagogo – Love Songs To Indonesia (2013). She has written travel articles for The Jakarta Post, The Adelaide Advertiser, The Daily Telegraph and  AAP. Every year Jan takes groups of writers on retreat to inspiring international locations like Bali, Laos, Vietnam, Burma, Morocco. She is currently working on a travel memoir that follows the footsteps of the French writer Marguerite Duras in Vietnam.
WRITING YOUR TRAVELS – one day workshop at WEA, Bathhurst St, Sydney. 10 am -4pm
Sat Dec 3, 10am – 4pm.
Book at WEA website.