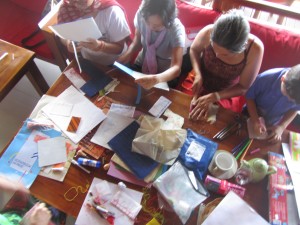 Scrapbook your way into story!
Spend a few hours with fellow creatives messing around with paper, scissors, glue and scrap book to create an image field for your next book, short story, poem series, movie/theatre script, creative event, exhibition or life project. Use this technique to create settings, develop characters and uncover story subtext. Map a hero's journey or explore the unknown potential of a new creative project. Getting mind out of the way, allow the imagery you collect on the pages of your scrapbook, to lead you into surp
rising places and hidden narratives. A relaxing and effective way to brainstorm, troubleshoot and generate new energy for your work.
Think it may be an escape from writing? Great authors do it – like Margo Lanagan. Have a look
HERE
at the scrapbooks she created while writing her recent novel Sea Hearts. Each page is an image field of the pictures she is creating in words.
WHEN: not currently running, please notify of your interest.
WHERE: The Paper Garage, Newtown, Sydney.
COST: $130
REFESHMENTS:  Delicious fresh rice paper rolls and jasmine tea from
Great Aunty Three
(let me know if you are vegetarian).
BRING: old magazines, weekend papers, posters,(I have plenty if you don't have any). Scrap book (s). A4 artists diary has strong pages, but whatever size you prefer.