The Haiku Art of Petite Book Making.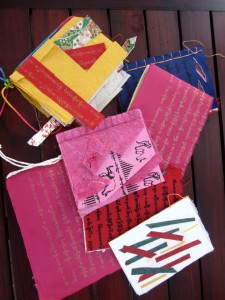 Take a break from writing books and enjoy making them instead! Join us on one of our international retreats in Bali, Laos, Burma Fiji, or sign up for a local workshop to learn the simple art of small book making.
Working with handmade papers sourced on our travels, learn how to use traditional Japanese stitching to make books of all colours, shapes, sizes, textures.
At the same time Jan will introduce you to the art of haibun, a form of descriptive writing incorporating haiku which was made popular by the Japanese poet Basho.
At the end of the retreat or workshop you will have a book to put your writing in.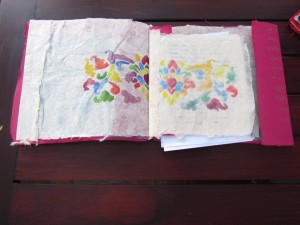 Zine inspiration – the little books we make take their inspiration from the Zine movement and also from the traditonal rice paper books made in Japan and other Asian countries.
Artist books also give us many ideas as we mess around with all kinds of papers, threads, cardboard, recycled materials, fabric, scissors, glue, collage, folding,  stencils  and more.
Paper book and stencil by Annaxue Yang, made on Mekong Meditations 2011.
You can join our bookmaking workshops  (daily workshop after our morning writing) on our retreats here:
or enquire about our next workshop in Sydney.
Pics below from our last Sydney workshop .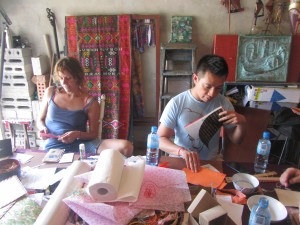 Hey Jan. Thanks for another great zine making workshop! Really enjoyed the inspiring input, the beautiful materials and the unique outcomes – as well as the great company and conversations.Time just flew by as always – and I didn't want to stop as you might have noticed. I really enjoy looking at these unique pieces of art plus the zines make a great inexpensive addition to my xmas presents

Less shopping to do, phew!  Looking forward to the next workshop

Thanx! Ilka Schroeder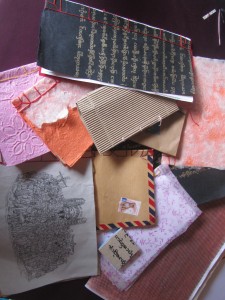 Wonderful! It was such a fun day, Jan – we really enjoyed ourselves. Thank you so much!Walter Mason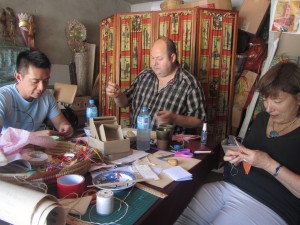 Thanks for a creative day! Anne Whaite.
Below: the fruits of our bookmaking workshop in Kintamani on our Bali Long Writing Weekend.