June 7-18, 2017. 12 days in Nepal/Tibet –  a creative tour for writers and artists.
Kathmandu; Lhasa; Gyantse; Shigatse; Xegar; Zhangmu; Bhaktapur; Kathmandu.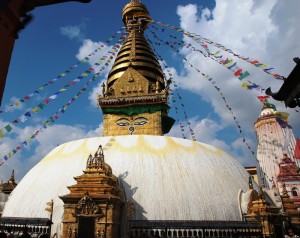 Our tour begins in Nepal combining the essential sights of Kathmandu & the surrounding region with an extended tour of Tibet, flying in and out of Lhasa from Kathmandu. Taking our inspiration from the temples, stupas, palaces and markets of ancient towns and villages, we immerse ourselves in the spiritual culture of these lands. Observing the old, the new, and the changes modern life has brought to the people of Tibet, we gather snippets, jottings, sketches, and photos of our travels for our creative journal. Steeping ourselves in its history, meeting its people and travelling through the Tibetan landscape, we find ways to bring this stimulus into our creative work. Daily workshops and exercises set up a framework for collecting creative material and provide the opportunity to share and receive feedback on your work. The creative conversation continues from the beginning of our tour to the end and beyond.