March 4 – 22, 2018. For writers and artists of all modalities.  Our creative adventure into the Moroccan desert will take you deep into the heart of Moroccan culture and the essence of your creativity. Start a new project, revitalise an old one or simply capture the journey in your chosen art form. Includes optional extra 5 day residency at an artist villa in Sefrou near Fez.
ASK FOR MORE INFORMATION HERE. VIEW PHOTO GALLERY. VIEW CLIP HERE.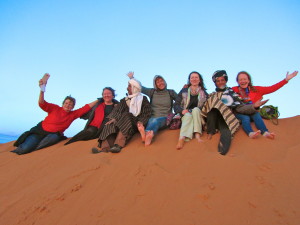 Our Moroccan Journey

We begin our creative adventure with two nights in Marrakech, before crossing the High Atlas Mountains and heading for the desert. Our destination is an artist's retreat in the Saharan village of Tissardine owned and run by Australian artist Karen Hadfield.
Listen to an interview on ABC Radio with Karen here.
'Situated in an oasis, this tiny traditional Berber village comprising of 15 houses, is perched on the edge of one of the Sahara's most extraordinary natural wonders, Erg Chebbi, a large dune stretching 22 kms long and 5 kms wide and peaking up to 150 metres high.
Formed by wind blown sand, Erg Chebbi is celebrated for its unique golden-orange sand formations that start at the most northern tip of the Sahara and undulate across Morocco to Tomboctou.
Located 30km from the more well-trodden towns of Erfoud and Rissani, Tissardmine is a place of tranquility, where the loudest sound you will hear is the birdsong'.
After two days at our Tissardmine base we ride out on camels into the vast Erg Chebbi dune for our 6 day camel trek, sleeping in Berber tents, feasting on tagine delights, drumming with our Berber cameleers by night and working on our creative projects.
We come back in to Tissardmine before driving across the Low Atlas Mountains for two days and nights in Fez, exploring its fascinating markets and medinas with an optional add on — a five day residency in the nearby town of Sefrou, staying in an artist villa and exploring the local culture.
FIND PRICES AND ITINERARY HERE