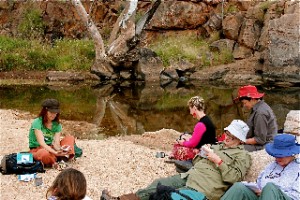 Sometimes you need the advice of a fellow traveller…
So you've started on your writer's journey and now you're home alone, going mad between four walls, grappling with your first, latest or (definitely last) writing project!
Or… maybe you have just attended a great workshop, gotten all fired up, but now the impetus to write has slowed to a trickle.
What about this… you are lying flat out on your bed fantasising about having a personal trainer to kick start your writing on a weekly or monthly basis. It's ok, help is at hand…
Jan  provides mentoring for beginning and experienced writers of all genres, supporting and guiding you on questions of craft, process and all the things that get in the way of your writing.
NEW!
At Home Writing Retreat or Birth Your Book in 9 Months!
Start any time!
An Intensive Mentoring Program designed to facilitate the completion of your draft manuscript within a nine month period.
This program introduces you to creativity techniques, provides tuition on the essential elements of writing craft, sets up fortnightly deadlines and offers check in calls with detailed monthly feedback sessions on submitted excerpts. You also receive free entry into all First Page to First Draft workshops,  a complimentary Avoidance Buster Manual, WOW manual and writing meditations CD. Plus a discount on Writers Journey creative adventures. Find out more here.
The program has a limited life and ideally takes place over a nine – twelve month period.
You may apply for an extension but a final expiry date of 12 months is designed to make you get words on the page and reach your writing goals.
NEW! Three Session Committment or At Home Writing Retreat (3 months)

Start any time!
Includes:
Complimentary intro session (1 hour max).
Email contact and reading time.
Fortnightly skype check ins. (20 mins)
WOW Ebook manual – tips and writing prompts.
Three face to face feedback sessions on up to 5000 words, skype or in person (1 hour max).
Price: $750 AUD  $550USD
To set up your intro session, contact Jan now.
The program has a limited life and ideally takes place over a three – six month period.
You may apply for an extension but a final expiry date of 12 months is designed to make you get words on the page and reach your writing goals.
The Real Deal  —   feedback on your completed manuscript.

OTHER OPTIONS
Writer's Journey can design a package to suit your needs. Perhaps something like:  Desperate Debrief, Kreatif Kickstart, Six Week Stint, Troubleshoot, Procrastinators Purge.
Contact Jan to discuss the program that suits you and Jan will tailor it to your needs.
You want to do all of the above, but in an inspirational, international location? Sign up for a Writers Journey Retreat today!

Feedback from a happy mentee! Crime writer Pearl Maya…

What where you hoping to get from the mentoring session with Jan?
Some direction regarding my first chapter; and, general feedback regarding what I am doing and what I could do better
Can you describe up to three useful things you were able to take away from the session?
Editing suggestion for the chapter provided; a burst of energy towards the project; confidence that whilst I may or may not get published, I'm not wasting my time
What effect has the session had on your writing project?
Editing is my least favorite aspect of writing – actually, to be specific, editing the work of others if no problem; editing my work is tedious. But after meeting with you I have now printed out my book and it is presently been covered with scrawls of things to add or change. The meeting was a great motivation – and I am surprisingly enjoying the process!
Would you recommend Jan as a literary mentor to others?
Absolutely!You were very generous with your time and your knowledge. There was a wide range of suggestions that were made available to me and perhaps, most importantly, you were very kind. I am quite sure that most writers can improve on their product but meeting with a knowledgeable person who just slams your work is not conducive to anything. Meeting with someone who can point out areas to be improved – and offer suggestions – while leaving not only your dignity intact but enthused is a real gift.
Novelist Suzanne King says:

Thanks again for your assistance.  We really did cover quite a bit of ground in our discussion. I look forward to progressing my book and it is great to know that if I do strike another hurdle that I can seek your assistance.