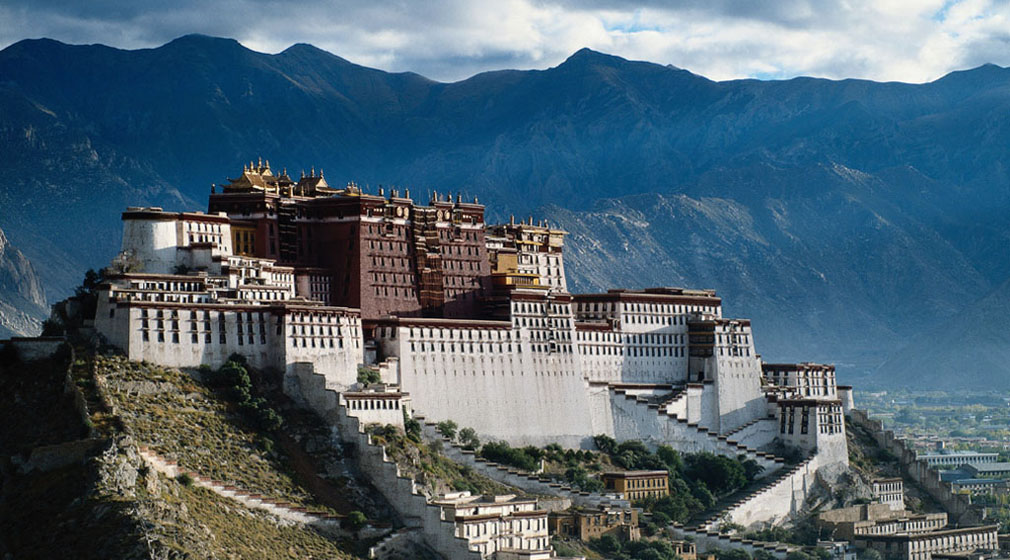 Completed  7 – 18 June, (arrive Kathmandu June 6) 12 days in Nepal/ Tibet –  a cultural tour for writers and artists.
Kathmandu;Dhulikhel; Lhasa; Tsedang; Gyantse; Shigatse; Lhasa; Kathmandu.
STAY TUNED FOR 2018 TIBET TRIP            SEE PICS HERE     REGISTER YOUR INTEREST HERE
_______________________________________________________________________________________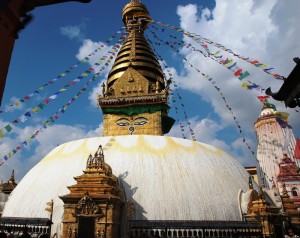 Our tour begins in Nepal combining the essential sights of Kathmandu & the mountain town of Dhulikhel (renowned for its Himalayan views) with an extended tour of Tibet, flying in and out of Lhasa and arriving back into Nepal. Taking our inspiration from the monasteries, stupas, palaces and markets of ancient towns and villages, we immerse ourselves in the spiritual culture of these lands. Observing the old, the new, and the changes modern life has brought to the people of Tibet, we gather snippets, jottings, sketches, and photos of our travels for our creative journal. Steeping ourselves in its history, meeting its people and travelling through the Tibetan landscape, we find ways to bring this stimulus into our creative work. Daily workshops and exercises set up a framework for collecting cultural/creative material and provide the opportunity to share and receive feedback on your work. The creative conversation continues from the beginning of our tour to the end and beyond.
VIEW PICS HERE       REQUEST MORE INFO
Prices approximate,  to be updated for 2018

Twin Share, regular price: $6595AUD, Payment by March 30.
Twin Share, early bird: $6295AUD, pay half by Jan 30, complete payment Feb 28.
Single Supplement $1050AUD.
Nepal Land Package Inclusions: -2 nights' accommodation at Dhulikhel Mountain Resort, Dhulikhel on bed and breakfast basis. 3 nights' accommodation at Hotel Himalaya/Hotel Shambala, Kathmandu on bed and breakfast basis. Necessary airport transfers in Kathmandu. Sightseeing tours as per the itinerary guided by an English-speaking guide in Kathmandu. Entrance fees as currently applicable (subject to changes) (museum fees will be extra if visited).
Tibet Land Package Inclusions: – 8 days/7 nights, fly in/fly out Tibet tour on a private basis Hotel Yulong or similar in Tsedang, bed & breakfast basis. Hotel Gyantse or similar in Gyantse, bed & breakfast basis. Hotel Shigatse or similar in Shigatse, bed & breakfast basis. Hotel Yak or Gangjian Hotel in Lhasa, bed & breakfast basis Guided by an English speaking local Tibetan guide. Necessary airport transfers in Lhasa and surface transfers as per the above itinerary. Monument, Tibet Permit and Entrance fees as currently applicable (subject to changes).
Travel Exclusions:  Air fares from your destination to Kathmandu and June 6 accom at Hotel Shambala not included (we can book it for you). Travel insurance, expenses of personal nature such as, meals other than breakfast, telephone bills, laundry bills, beverages bills, camera fees, tips etc.
For full tinerary see below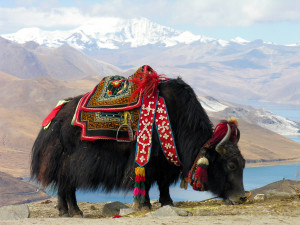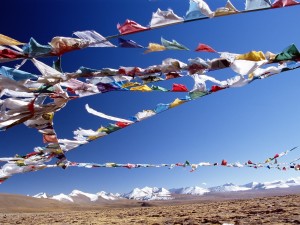 ITINERARY
Note: Daily creativity workshops take place at our hotels and on the trail with exercises given for the journey.
Arrive in Kathmandu airport on June 6. Transfer to Hotel Shambala (own cost) and settle in.
Wednesday 7 June:

Meet after breakfast in the foyer of Hotel Shambala for briefing and introductions.
At noon we drive to Bhaktapur town. Entering the Durbar Square, the sparseness of the temple is immediately apparent, compared to the profusion in the Durbar Squares of Kathmandu and Patan. Visit the Durbar Square which contains innumerable temples and other architectural show pieces.
After the visit, continue to the small resort town of Dhulikhel.
Overnight: Dhulikhel Mountain Resort
Thursday 8 June:
Tour of Dhulikhel. Walk to Panauti (B) (Alt. 1380m)
This morning, commence sightseeing tour of Dhulikhel. Old temples and Newari style houses are the main attraction of Dhulikhel.
After the visit, walk through paddy fields to Panauti village which is located at the confluence of the Puny Amati & Roshi Khola rivers. Panauti was once an important staging post on the Tibet trade route with pre-Lichhavi origins. The banks of the river are crowded with temples, shrines and cremation ghats. Across the river lie the Brahmayani temple and the biggest Shiva lingam in Nepal. The Indreshwar Mahadev temple is a 15th century Newari structure with exquisite woodcarvings especially on the roof.
Overnight: Dhulikhel Mountain Resort.
Friday 9 June: (Alt.1400m)
Drive Dhulikhel/Kathmandu, Tour of Kathmandu & Swoyambhunath. (B)
This morning visit the old Kathmandu city with its stone paved lanes, colourful bazaars and the Temple of the Living Goddess – Kumari who is considered to be the incarnation of the "Virgin Goddess". The old Durbar Square consists of the old palace and innumerable temples of different architecture.
 Further visit the Hanuman Dhoka Palace and its museum which has now been opened to the public. The temples, shrines and different sections of the palace are contributions of various dynasties over centuries and epitomize the religious and cultural life of the people.
Continue to
Swoyambhunath stupa,
situated west of Kathmandu, which is a 2500 years old Buddhist stupa. Located at a top of green hillock the eyes of Buddha painted on its pinnacle overlook righteous behaviour of the valley inhabitants. Around the stupa are hung multi-coloured prayer flags whose every flutter releases holy prayers to heaven.
Overnight at Hotel Himalaya or Shambala, Kathmandu (4 star)
Saturday 10 June:
Fly Kathmandu / Lhasa (B)
Fly Kathmandu/Lhasa. Drive to Tsedang. Visit the old kings` tomb, Yumbulakhang Palace and Tandruk
Monastery.
Overnight: Yulong Hotel Tsedang.
Sunday 11 June:
Tsedang (B) (Alt.3500m)
Drive to Samye monastery crossing Yarlung river by ferry. The Samye Monastery is the first Buddhist monastery
built in Tibet. It was probably first constructed between 775-9 CE under the patronage of King Trisong Detsen of
Tibet who sought to revitalize Buddhism, which had declined since its introduction by King Songtsan Gampo in
the 7th century.
Overnight: Yulong Hotel Tsedang.
Monday 12 June:
Drive to Gyantse (B) (Alt.4040m)
After breakfast, drive to Gyantse, a small bustling town seeped in history. Drive along the Yarlung Tsangpo River
and then over a high pass Khamba-La pass (4,794m) before descending to the Turquoise Lake, Yamdrok Tso.
Then ascend along a winding road to cross the Karo-La pass (5,045m) and then descend to the Gyantse valley.
Overnight: Hotel Gyantse or similar.
Tuesday 13 June:
Drive Gyantse/Shigatse (B) (Alt.3836m)
After breakfast, visit Kumbum Chorten and the Pelkhor monasteries in Gyantse. Then drive to Shigatse visiting
Shalu monastery en route. Afternoon, visit the Tashi Lhumpo monastery – the largest & most magnificent
among all monasteries in Tibet. Also visit temple of future Buddha that is 26 m high & gilded with gold.
Overnight: Hotel Shigatse or similar.
Wednesday 14 June:
Drive Shigatse/Lhasa (B)
After breakfast, drive to Lhasa and check in at the hotel.
Overnight: Hotel Yak or Hotel Gangjian .
Thursday 15 & Friday 16 June:
Sightseeing Lhasa (3,650 m) (B)
Two full days will be spent discovering Lhasa – its magnificent palace residences, Monasteries & quaint Bazaars.
You will see the famous Potala Palace, Norbulinka – HH Dalai Lama`s summer Palace, Sera & Drepung
monasteries as well as the Jokhang Temple. Walk through the narrow lanes of Barkhor, the old market place of
Lhasa which has remained unchanged for centuries.
Overnight: Hotel Yak or Hotel Gangjian.
Saturday  17 June:
Fly Lhasa/Kathmandu (B)
Fly Lhasa/Kathmandu. Upon arrival at Kathmandu, transfer to the hotel.
Final workshop and celebratorary dinner.
Overnight: Hotel Himalaya or Shambala Hotel Kathmandu.
Sunday 18 June:
Departure Kathmandu (B)
Transfer to International airport to connect the outbound flight.
Goodbye & Namaste
 Note: the itinerary may be subject to change according to local events and conditions.
If you decide to join us please make sure you read Writers Journey Terms and Conditions.
See our destinations in Tibet below, marked in red.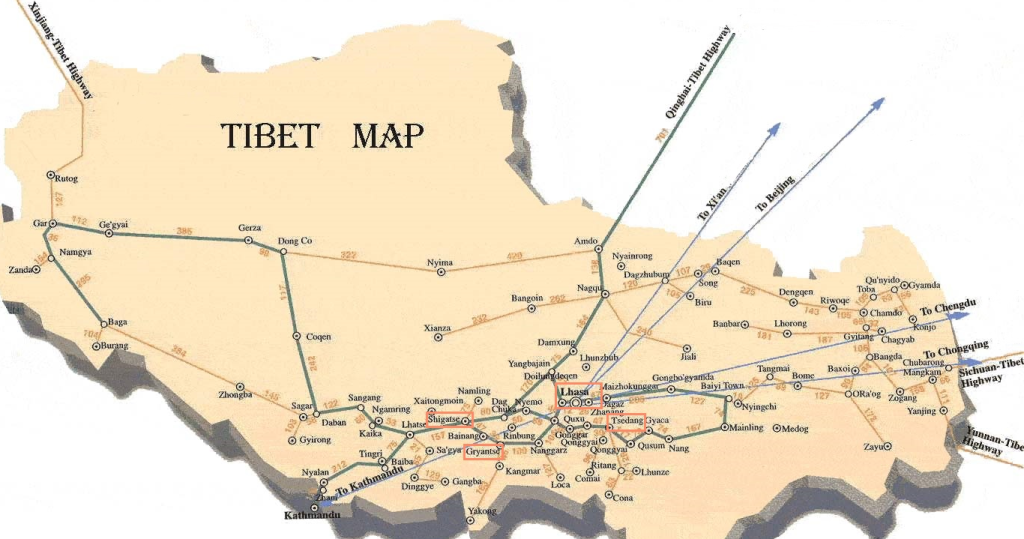 Writer's Journey supports the humanitarian work of  ASIA ONLUS  through their projects in Nepal, Tibet and other Asian countries.