March 27 – April 3, 2018,  an eight day creative tour for artists and writers, taking in the Nakasendo Way in Japan. Begin in Ena(near Nagoya) finish in Tokyo. Itinerary below.
VIEW PICS HERE    ASK FOR MORE INFO HERE    READ OUR HAIKU MAG HERE
—————————————————————————————————————
Join us on a unique creative adventure, at the time of Sakura, Japan's cherry blossom festival. Following the footsteps of Japan's most famous haiku poet, Matsuo Basho, who also walked this way in the 1600s, we travel the ancient Nakasendo Highway, staying in inns, visiting hot springs, walking for a part of each day (train inbetween) and ending our tour in Tokyo. Open to writers, poets and creative artists of all modalities, daily creativity workshops will take their inspiration from our explorations of the haiku form. Bringing our attention to observing the small details of nature in the present moment, we learn how to take this stimulus into our chosen art form, creating a haiku journal of poems, observations, sketches, photos and writings as we go.
The daily walking distance can be adjusted as we go. Medium level fitness is required. Transport, however, can be arranged for those who desire a more relaxed day. Baggage goes ahead by taxi, except when we travel by train. We climb several passes, but they have fairly gentle inclines and can be taken at a comfortable pace. For detailed itinerary see below.
Basho travelled the Kisoji in 1685, one of several pilgrimages he made as an exercise in spiritual and artistic refinement. In 1687, Basho traveled along different parts of the Nakasendo, immortalizing his journey in "Knapsack Notebook (Oi no kobumi)." "Sarashina Journal (Sarashina Kiko)" followed in 1688.
So often seen off,
Or seeing you off, journey's end –
Autumn in Kiso
The woodblock artist Hiroshige, travelled this way too. His famous series, Sixty-Nine Stations are images of the Nakasendo rest areas. In its heyday in the seventeenth century, the Nakasendo was crowded with travellers, including feudal lords, samurai, itinerant merchants  poets, artists and pilgrims. Now largely forgotten and quiet, the road provides a pleasant path through scenic countryside and, also, the history of Japan. We pass through and stay in picturesque, old post towns en route, in much the same way as the Japanese traveller of old. Charming, traditional inns, which have somehow survived into the modern world, provide us with friendly and atmospheric overnight accommodation. In the evenings, in an ambience reminiscent of Hiroshige's woodblock prints of feudal Japan,  we relax and enjoy excellent meals.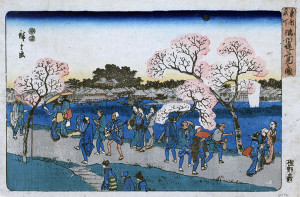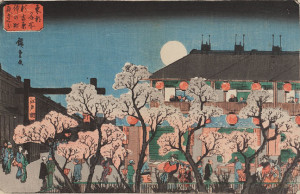 Prices:
Regular Twin Share $4795,  Early bird $4595. Pay by July 30.
LIMITED PLACES  A $600 deposit will reserve your place.Pay by Pay Pal here
Bring A Friend! Due to limited rooms in our traditional ryokan accomodation, single supplements on the Nakasendo trail are extremely limited.
ITINERARY
Morning writing workshops and evening readings will be added to the itinerary as we go, with writing exercises given for the walking trail.
The daily walking distance is between 10~24kms (6.2~14.9 miles) and options are provided to lengthen or shorten the daily itinerary to suit your energy levels. Several passes need to be negotiated along the route but these can be climbed at a comfortable pace and usually take less than 30 minutes to reach the top. Your main baggage, sent ahead by courier, is with you each evening for every night of the tour except one. On one morning a taxi is reserved to transfer you to the start of a more remote walking path. Also, a Japan Rail Pass Coupon, which is sent to you prior to your tour, is included to provide you with easy train transfer to the start of and for the duration of your tour to Tokyo.
Day 1 Ena
The tour itinerary starts upon check-in at your accommodation in Ena. Once a post-town on the Nakasendo Way it is now a small, regional town and provides a convenient point to begin your tour. Your stay overnight here is in a ryokan, a traditional Japanese inn. Aside the Nakasendo Way, the inn was founded in 1624 and your hostesses comprise three generations; respectively the 13th, 14th and 15th of the original innkeeper's family line.
An early arrival in Ena  (train from Kyoto or Tokyo) from is recommended to allow a visit to the informative and entertaining Hiroshige Museum of Art. Dedicated to the famous woodblock print artist, who depicted many scenes of Edo Japan including all the post-towns of the Nakasendo Way, the museum displays many of his prints and provides a hands-on exhibition of print making. Though be sure to make it back to your inn in time for dinner, the first feast of your tour.
Accommodation: Japanese inn.
Total walking: N/A.
Day 2 Ena – Nakatsugawa – Shinchaya
This morning after breakfast you step out and begin your walk of the Nakasendo Way. Just over 12km distant along largely quiet country lanes over gently undulating terrain is Nakatsugawa. En route are many of the first wayside temples, shrines and stone statutes and markers that are typical of all the ancient roads of Japan. The scenery changes from town to rural and back to the town as you approach Nakatsugawa. On a clear day, along the way you may see in the far distance Mt. Ontake, the volcano that becomes a near neighbour on Day 4.
Nakatsugawa has many different restaurants to enjoy lunch at including an excellent one that serves the local delicacy, eel. A large supermarket also provides an interesting look at daily Japanese life and multi-varied foods to select from.

From Nakatsugawa, the route is akin to a helter-skelter combining a series of steep climbs and descents. No ascent takes longer than 5~10 minutes with the exception of the final long ascent, which takes about 40 minutes. This afternoon the scenery opens up for views across valleys before the route follows traditional ishidatami stone paving through a forest. En route you pass through the quiet post-town of Ochiai, which still retains its honjin top-class inn. A rare feature, it has remarkably survived into the modern age, though unfortunately is no longer in business. At the top of the final climb appears your inn, a pretty establishment in an idyllic, rural setting. Inside a warm welcome awaits you from the host and hostess, as does a refreshing bath to relax in. You will also find here your main luggage, which was brought here from Ena by vehicle. Dinner is compsed of many dishes of local delicacies, both grown and caught by your host. Afterwards an evening stroll in traditional geta wooden clogs along the road is recommended.
Accommodation: Japanese inn.
Total walking: Approximately 18km (11 miles).
Day 3 Shinchaya – Magome – Tsumago
Following breakfast, the first 30 minutes takes you through bucolic surroundings of paddy fields set against a backdrop of mountains and past farmhouses with neatly tended gardens strung along your route. Magome, a post-town set unusually on the side of a mountain is your initial destination this morning. The first of several elegant villages you visit on this tour, it was the birthplace of Shimazaki Toson, Japan's first modern novelist and author of Before the Dawn. His novel eloquently describes Japan's transition from feudal to modern society in his home town.
Today, few of its many visitors stay in Magome but there are many cafés to relax in and shops to browse through. Enjoy expansive views across to Mt. Ena before continuing on the Nakasendo Way up the appropriately named Magome Pass.
From the top your route now gently meanders downhill, on a forest path, through cedar forests, past clear running mountain streams and waterfalls. An Edo-period teahouse in a clearing in the forest still exists much as it would in days of old and provides a picturesque place to rest and take refreshment. Eventually, you reach Tsumago post town. The inhabitants of Tsumago take great pride in their town and preserve it much as it would have looked like in the Edo Period. Tsumago is delightful to stroll through and the post-town's high class inn, once reserved only for the top samurai, is now a museum providing an informative look at life here over the ages. An option this evening to go either straight to your inn or make a detour by taxi to the local onsen thermal hot spring baths. Your inn tonight is just outside Tsumago in a lovely hamlet aside a river.
Accommodation: Japanese inn.
Total walking: Approximately 10km (6.2 miles).

Day 4 Tsumago – Nagiso  – Kiso-Fukushima
A morning walk of approximately 6km from Tsumago to Nagiso follows the old highway through picturesque hamlets and fields. In the late morning, you can take one of two routes to Kiso-Fukushima, your final destination today.
Course A, the first route, is a long walk of approximately 15km up and over the Nenoue Pass, through scenic mountain countryside before descending to Nojiri. From here trains depart for Kiso-Fukushima.


Course B allows for a relaxed day by taking the train from Nagiso to Kiso-Fukushima allowing you ample time to explore both Nagiso and Kiso-Fukushima. The former has an intriguing footbridge bridge spanning the Kiso River and a small museum, which was once home to Momosuke, who built the bridge, and his partner Sadayakko, one time geisha and a colourful character. She travelled to the USA and Europe and, creating a sensation, appeared on the front of the Harper's Bazaar magazine in 1900. Kiso-Fukushima has an excellent soba buckwheat restaurant, a famous lacquer shop and a Buddhist temple containing one of Japan's largest Zen rock gardens.
Your accommodation tonight is in a modern ryokan in the centre of town. Onsen baths and a sumptuous evening meal also await you here.
Accommodation: Japanese inn.
Total walking: Route A: 23km (14.3 miles); Route B: 8~10km (5~6.2 miles).
Day 5 Kiso – Kaida Plateau
In a deep valley and at the confluence of two rivers, Kiso-Fukushima was an ideal strategic defensive location and known throughout the land for its sekisho checkpoint, which controlled all traffic along the Nakasendo Way. A reconstruction of the checkpoint provides interesting insights into it use by the Shogun to maintain his power.
A reserved taxi transfers you from your inn to the Karasawa-no-taki, a towering waterfall, and the beginning point of today's walk. From here a forest trail takes you over the Jizo Pass and down to the beautiful Kaida Plateau in time for lunch. Restaurants include a café, run by a lovely couple retired here from city life, and a soba noodle restaurant. Your route across the Plateau passes through a horse ranch, which specialises in breeding the stocky, local Kiso horse. From here a bus to your inn or, for the more energetic, an afternoon walk up and over the Nishino Pass, which on a clear day, offers spectacular views over the Plateau to imposing Mt. Ontake, and Japan's Central and Northern Alps.

At your inn, another family-run concern, relax in onsen baths before yet another sumptuous dinner.
Accommodation: Japanese inn.
Total walking: 10~12km (6.2~7.5 miles).
Day 6 and 7 Kaida Plateau – Narai – Karuizawa
A bus and train transfer to the start of today's walk at Yabuhara post town. From here a 9km (5.6 miles) walk through forests, up and over the Torii Pass before descending into Narai, another scenic post-town. Narai is known for its unique architecture, boxwood combs and lacquer ware. The town's pleasant ambience is matched by the congeniality of it townsfolk. Transfer from here by local train and the Shinkansen Bullet Train to arrive early evening at your accommodation in Karuizawa. More hot baths and another feast await you here.
We spend  a rest day here to catch up on writing and local walks.
Accommodation: Japanese inn.
Total walking: Approximately 9km (5.6 miles).
Day 8 Karuizawa – Yokokawa – Tokyo
Your walk this morning is a gentle climb consisting of many switchbacks through beautiful maple forest to the top of the Usui Pass. From here on a clear day, views are afforded of yet another volcano, Mt. Asama. After visiting the Kumano Kotai Jinja, a shrine at the top of the Pass dedicated to the founding gods of Japan, a long descent along a forest trail brings you to Yokokawa station. Fromhere a local train and Shinkansen Bullet Train whisk you to Tokyo.
Accommodation tonight in Tokyo is not included in this tour but we are happy to provide recommendations if required.
Accommodation: N/A
Total walking: Approximately 16km (10 miles).


Praise for our 2016 Japan Journey
"So many thanks for a most inspiring and stimulating experience in Japan.  I loved Matsushima — strolling in temple garden. Loved the hot baths, esp when you found an outside one!The soiree— a glimpse into the deep talents of many diverse individuals!  Loved it — the songs, the poetry, the stories, and the pilgrims retreat place. Want to return to wander and dream there!Our accommodations, food, guide and of course the walks, the workshops, were all first class.  Ted was a great guide….succinct, knowledgeable, intelligent and funny, helpful. He was good at noticing when I was having trouble down steps with big bag for example.  And you! always so cool, calm. Thanks for all your fine attention to all the details and looking after our group. And I loved our spontaneous conversations with a diversity of Japanese people. So many haiku moments….as you reminded us…every moment is a haiku moment!!" Caroline Josephs, Sydney (Read her Japan haiku here).
"Thanks again for a terrific trip. We both loved it, and we got Jane away from work for the first time in forever–recharged her batteries! So glad we came! And I am so enjoying the magazine you assembled from our trip. For my page, I appreciate your kind introduction and conclusion and the apt illustrations, beautifully done." David Oates, Athens, Georgia, USA. (Read his Japan haiku here).
"Dear Jan, it was indeed a wonderful experience, many thanks!" Jacqueline Buswell, Sydney. (Read of her poetic journey here).
"Thank you for a wonderful trip!" Gabrielle Wang, Melbourne. (View Gabi's illustrated haiku here).
"An amazing experience! It was wonderful to talk and write and walk with all of you and I hope that we can keep in touch.
I am still waking at 3:30 each morning and it's not so bad because I think about our times together!" Maureen Sauvain, USA.
"Thanks so much for your leadership and creative support during the Japan trip." Cath Chase, Sydney.
"I absolutely loved everything about our Japan trip. The group was fantastic and dynamics good. Walking, food, history could not be faulted. " Lyn Mcgettigan, Sydney.
See photos from our 2016 Haiku Walking journey following  Basho's Narrow Road to the North (Tokyo – Kyoto) here.
Read haiku writings from our group on our online magazine – Summer Grass here.
Please read Writers Journey Terms and Conditions.