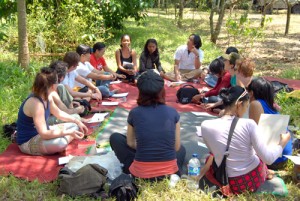 Writers Journey supports the wider community in the Asia Pacific in a number of ways:
sponsoring and subsidising local writers to attend courses.
offering pro bono workshops, literary events, performed readings for communities and community fundraising.
making donations, conducting appeals for  specific causes and projects.
In the past Writers Journey has contributed to an Ubud dance group, sponsored a number of writers to attend workshops including East Timorese writer Milena da Silva and West Papuan poet John Waromi, been the sole sponsor for Perfurbance Festival 2006, Yogykarta, sponsor partner for Perfurbance Festivals 2007, 08 and Open Art Festival in Beijing 2009. We have sponsored workshops for Utan Kayu Community Jakarta, Festival Mata Air Salitiga, Creative Writing Group, Semarang; ran appeals for victims of the Indonesian earthquake in 2006 and Mt Merapi eruption 2010; made donations for hospital treatment of leukemia patients in Ubud  and Sumatra, assisted with hospital costs for operations, broken bones, births, ambulance, in Ubud, Sumatra, donated to Bumi Sehat Birthing Clinic in Ubud, provided rent assistance to a number of Indonesian artists and mentored emerging writers Majok Wilson (Sudan/ Australia), Arizona Firgi (Indonesia)  and numerous young Indonesian writers and artists including Buta Buti Film Collective.
Get involved with some of the organsiations Writers Journey has supported:
Community Workshops
Writer's Journey offers workshops to community groups at cost rates for fundraising and will tailor a workshop for your community needs.
Readings and Performances
Jan is available to read from her work and perform her songs and poems at your fundraising events.