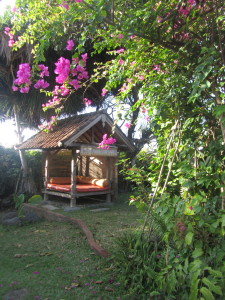 When I work with writers and artists the main tool I use is guided meditation. We could be sitting anywhere: an office block in a noisy city, the ruins of Angkor Wat, a beach in Bali, but still I use the same technique. After guiding people into a relaxed state I ask them to dream up their imaginary writer's den.
Maybe it's in a shack high on a Himalayan mountain range,  a lean-to on a wild Oregon beach, or perhaps it's a log cabin deep down in a forest glen where sunlight dapples through 1000 year old eucalyptus trees. Where ever it is, there is a huge picture window to the view, a fabulous oak desk, gorgeous papers and pens, a comfy writer's chair, no phone, no wifi — just you and nature.
I encourage people to sit in the stillness of the view and remind them this place is available to them any time day or night, where ever in the world they happen to be.  After that I take them into a specific visualisation connected to the craft element we are focusing on that day. Meditations available here.
There is more and more literature around about the effectiveness of stilling the mind before beginning creative work. Last year at Mountain Echoes Literary Festival in Bhutan, renowned travel writer, Pico Iyer talked about how after his family home burnt down, he went to stay for three days at a Benedictine retreat centre in California. As well as stillness, he discovered that "home is not where we live, but what lives inside us." Stillness does not need a guru, a philosophy, a religion — it's just you taking time out to to slow down, tune out and give yourself permission to be still.
This is exactly what we do in our imaginary writer's den. We take time out to let all the babble of our busy lives, all the niggling worries and tensions, fade away into the silence of stillness. At the end of the visualisation we write without stopping and what turns up on the page is always extraordinary.
In April this year a group of us will head for south eastern Bali. Our real writing dens will await us, nestled beside a beach in Padang Galak, near Sanur. We will walk, swim, meditate, create and write to our hearts content. Our creativity will  be stimulated by the Galungan festival going on all around u, with all its colour, music and ceremony . We will be nourished by delicious Balinese food and the company of fellow creatives. And stillness.
Where is your imaginary writer's den, what does it look like?
Find out more about Backstage Bali – Creative Intensive, April 10 -17, here.
Other journeys:  Taste of Tibet, June
Haiku Walking in Japan, Nov 6-16