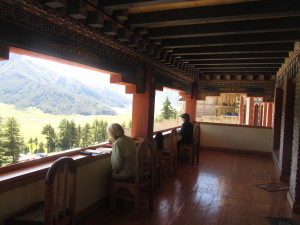 Sometimes all it takes to bring on a breakthrough is to change location. Taking yourself out your everyday into someone else's. I've seen this happen time and time again on our Writers Journeys and it was evident on our recent Creative in Bhutan trip. Beginning in the west we traversed the serene valleys and high mountain passes, glimpsing the peaks of the Himalayas, braving the wild rocky roads to discover the peace and serenity of Chume Valley and the ancient temples of Bumthang in the east. Returning again via Punakha Valley we arrived at the Mountain Echoes Literary Festival in Thimphu where writers and commentators of international renown stimulated our minds and cultural events tickled our senses. We had hot stone baths and a farm house lunch in Paro before climbing to the Tigers Nest, the famous pilgrimage site for all Bhutanese.  This may have had something to do with it. Our itinerary was quite intense and if you couldn't write on the bus because it was way too rocky you learned to use mind photography to be recalled later. We also had a great mix of creative people. On board were not only writers but photographers, a theatre director, a painter, biographer, poet, memoirist, nonfiction writers, novelists and a couple of determined non writers. But by the end of our trip there breakthroughs a plenty. The determined non writers not only wrote, but wrote really well! Taking her inspiration from the landscape around us a novelist discovered how to use magic realism in the fairy tale form. An Italian theatre director discovered he had a talent for writing hilarious short stories in English,  while his partner, a novelist, gave voice to her deep concerns for her country in sardonic verse. A painter showed us how important writing is in her artistic process. A rose grower grew into a love poet. A photographer turned her photos into haiku poems. A journalist gained spiritual insights into her own story. A travel writer learned how to keep writing even when not travelling.  A psychologist found they key to telling the story of her lost childhood.  A biographer came up with the brilliant idea to write about the questions she hadn't asked and an agnostic poet had to admit that god was a key player in his work.
Was it the country, the people, the temples, the hospitality, the serenity, the views, the physical challenges, the landscape, the history, the simple act of stepping outside of yourself for a while? Who knows? But somewhere deep inside, some part of you cannot help but be changed by this place, these people called the Bhutanese. Which is why I will be going back again. Let me know if you want to come!
See pics from our trip here.
Read writing from some of our writers here.
Read my article on Mountain Echoes Festival here.
Let me know if you are interested in Creative in Bhutan in the future here.