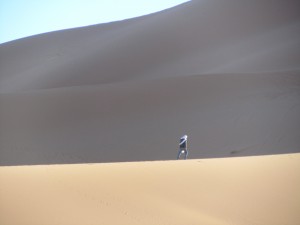 Sometimes you just have to get away, far away, to clear enough space around your head to let the writing in. We did this recently on our twelve day writing journey in Morocco. Starting in Fes we explored the fascinating medina of the old city, chasing our story ideas through its labyrinthine laneways.
Soon we were on the road again, crossing the snowy mid Atlas ranges, experiencing a change of landscape on the hour, from barren desert plain to fertile river valley.
But when we arrived at Cafe Tissardmine, an artist and writer's retreat set up by artist Karen Hadfield, near the great Erg Chebbi sand dune,  the space around us opened up, fell away, allowing the writing to pour in.
Sometimes you have to travel far way from your story to be able to look at it from a different angle. There were breakthroughs a-plenty as we worked intensively day by day, following the inspiration of the eightpointed star, mapping our stories from every angle.
As the night sky opened its vast brightness, filling with stars, so did the space of desert beckon us, as we travelled by camel further into the dunes and deeper into the centre of our work.
Sometimes you need to do this for your writing – take yourself far way from familiar routines and place yourself in a foriegn landscape. It always works, but in the desert it is always far more profound.
If you missed out this year don't worry, we are going again in January 2014, so start putting your pennies in the jar and have a look at the latest pics from Moroccan Caravan here.
Coming Up
Feb 1-9 :  Temple Writing in Burma (including Irrawaddy Writers Festival)
March 9-16: Fiji Island Writers Lab 
 April 15 – May 26: Meditating On Memoir, Sydney, a six week course, for memoir and fiction writers.
June 6-16: Sacred Song, Sacred Story, Fes, Morocco (in conjunction with The Fes Sacred Music Festival).
Oct 7-15: Backstage Bali (inc 5 days at Ubud Writers Festival).
Nov 24 -30 :  Mekong Meditations Luang Prabang Laos.
Jan 9-21, 2014: Moroccan Caravan (with optional extra week).

2 Responses to "Finding the space to write"